Chiller Performance Validation
Broad Chillers are Factory Tested.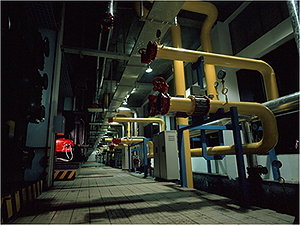 In North America it became common to perform test electric chillers in the 1980s when manufacturers were making great strides in improving energy efficiency.
When CFCs and HCFC were phased out though the Clean Air Act in the 1990s many customers requested proof of performance as the switch to new HFC refrigerants yielded performance that was less predictable.
The history of Absorption Chillers in North America was to never run a unit test before shipment. There were various explanations why this was "not a good idea". The primary obstacle was the cost to set up a test stand that could deliver the wide variety of thermal heat sources to prove performance at a specific customer requirement.  Another factor was time on the test stand that was required to perform an absorber test.  To charge a chiller with LiBr Solution typically takes much longer then a chiller that requires chemical refrigerants. Water is the refrigerant in an absorber and when mixed with LiBr the "solution" is typically removed before shipment as modern absorption chillers are put under a protective nitrogen charge.
Over the years this lack of factory testing resulted in many projects that did not meet customer expectations with regard to design tons or Coefficient of performance (COP).
The demands of high performance buildings today can be met regardless of what chiller technology is applied in the facility.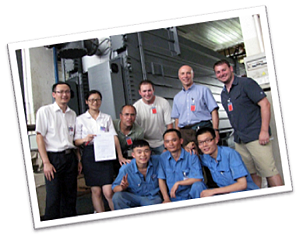 The Benefits of Factory Testing:
Owner:  Insures the chiller will yield the operating performance characteristics as designed.   It can also be a great opportunity for the operator to learn about the unit which will be cooling or heating the building and to become an expert in the operation of the absorber.
Design Engineer:  The only way to really validate that the chiller supplied is meeting the design specification requirements. Field testing can be extremely challenging and expensive to replicate.
Contractor: Lowers risk of system issues and eliminates field verification of chiller performance which can be very time intensive and difficult to accomplish.
What you will see on your visit:
Processing Center

Digital machining centers are used for drilling, cutting and milling for main shell and HTG tube sheets to assure high precision.

Laser Cutting Machine

Cut thin parts with irregular shape with high precision and smooth edges.

Digital Cutting Machine

Assure material cutting quality and working efficiency. It is also helpful to CAM applications.

Digital Tube Bending Machine

Tubes can be bent to any directions, which can greatly improve the standardization and sterilization of tube manufacture and fabrication. This guarantees the chiller's high performance and vacuum reliability.

Tube Sheet Robotic Welding

Advanced equipment together with our staff's stringent working ethic has reduced the leakage rate of welded seams to less than 6 leakage points per 100,000 welded seams.

Robotic Shell Welding System

This digital robotic shell welding system can perform five-axis welding to achieve high mechanical strength of welding seams and shell integrity. The robot has the most advanced calculation mode system allowing the welding of complex curves. It can automatically modify the welding angle, regulate the welding position and electric current rate to eliminate any welding deformation to the maximum extent.

Welding Robot Working Stations

Germany CLOOS welding robot working stations feature high safety, efficiency and precision. Integrated use of intelligent system with contact sensor and arc welding sensor assure welding seam quality.

Auto-Submerged Arc Welding

High efficiency and excellent welding techniques. Inner body of HTG works in the most rigid conditions. BROAD is the only DFA manufacturer that applies double-sided arc welding to this part in the industry.

Absorption Chiller Production Line

The largest assembly line for absorption chillers in the world since 1995. It managed strictly following ISO9001.

Robot Painting Lines

Ensure good paint adherence and even thickness. This painting system, together with the whole unit shot-blasting system, improves the painting quality and protects workers' health.

Whole Unit Shot-Blasting

BROAD has the world's largest whole unit shot-blasting facility, which can shot-blast chillers of all dimensions. Whole unit shot-blasting provides rust cleaning on the chiller surface, strengthens painting adhesion and eliminates the risk of leakage caused by corrosion. Whole unit shot-blasting also releases the residual stress, eliminates welding seam leakage and tube expansion caused by structure deformation. This is an essential process for the chiller's good performance and long life-span.

Optical Emission Spectrometer

This device can instantly analyze metals in concentrations as low as one part per million by weight and also measure concentrations of more than 20 elements simultaneous in copper, steel, stainless steel and welding materials, etc. It is of vital importance for raw material examination for quality control and product development.

Auto Material Testing Machine

To test tensile strength, deformation, elongation and curvature of various materials. It can also conduct the fatigue and destructive test of raw materials. With its high-precision, it can measure the difference of tension between two hairs.

Whole Unit Testing Platform

It has over 40 test beds for comprehensive performance tests. It is the largest and most advanced whole unit testing platform in the world. This facility has been certified since 1997.

Atomic Absorption Spectrometer

Can analyze instantly any liquid to a precision of one part per million by weight. This is mainly used to test contents in LiBr solution and its constituent materials. This device is also convenient for detecting corrosion in chillers and is of utmost important for maintenance interval determination and life-span forecasting.

Helium Inspection System

Helium spectrometer and vacuum testing set perform leakage checking for vacuum parts and the whole unit step by step to control quality and guarantee vacuum in the unit.

Control Cabinet Testing

Simulates running conditions of the chiller and conducts complete test and commissioning of control cabinet.